We offer a large variety of eye wear products to better enable our patients to make the best choice for the look they want and the life style they lead. From precision made contact lens to the most current in sports and other eye wear we hold our products to the highest standards for vision, comfort and wear ability. Whether you're eight or eighty, we can fill your eye wear needs!
Contact Lens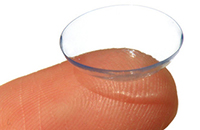 We assist our contact lens wearing patients in making the best choice for vision, comfort and safety. We carry products made by manufacturers such as Bausch + Lomb, Acuvue and Air Optix (need to verify or add to list as needed) who are known for the quality and precision of their lens.

Frames
We carry a vast selection of frames from ports all across the globe setting us apart from our competition. Our patients choose from a variety of frame shapes, colors and even funky shapes. We can help you create the look you want in eyewear fashion.
Our manufacturers and designers include:
Dolch & Gabbana • Gucci • Christian Dior
Jean Paul Gaultier • Ooh La La de Paris • JF Ray
Prada • Vera Wang • Cazel • Jimmy Choo
Francois Pinton • Versace • Prodesign
Valentino • KXOS • Lamatta
Eye Eye Denmark • Wiley X • Carrera
Lu Lu Guinness • Juicy Couture • Jaguar
Coach • Burberry • Kliik • Fysh • Rudy Project
…and so many more!
Sports
If specialty sports eyewear is what you are looking for, come in to see our wide selection of sports goggles and sunglasses available at all price levels to fit all budgets, most of which are available with optional prescription lenses.  Our eye wear solutions for sports are the best match for the vision precision needed and consider safety and durability.